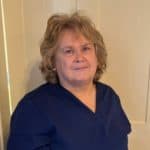 Dr Ursula Pencavel
Ursula Pencavel. BDS, LDSRCS, BSc(Hons), MSc.
GDC number 56359
Ursula qualified as a dentist at University College Hospital in 1982. As well as general dentistry she has a special interest in orthodontics and has worked in the past with local orthodontic consultants at both Royal Shrewsbury and Princess Royal hospitals. Her other area of interest is the care of nervous and dentally phobic patients – she has a Masters degree in psychotherapy and is registered with UKCP.
Ursula is keen to help patients maintain healthy gums and teeth and values the contribution the practice hygienists make to this process.
Ursula enjoys gardening, walking – especially by the sea, and archeology.